Membership
Exciting golf, spectacular scenery and a warm welcome awaits new members of The Isle of Purbeck Golf Club.
Members can participate in Club matches on Saturdays playing against other clubs, or can join in on most Sundays with the in-house Club competitions
There are mid-week competitions, social events, themed dinner evenings and much more.
Annual Membership Subscription Packages:
Full Membership
£1275
Joint Membership
£2300
Weekend Membership (Fri-Sun)
£975
5 Day Membership (Mon-Fri)
£975
Twilight Membership
After 2 Summer / After 12 Winter
£650
Country Membership
£500
36-45 Age Group
£775
31-35 Age Group
£650
22-30 Age Group
£450
16-21 Age Group
£225
5-15 Age Group
£100
Dene Membership
£400
Dene Joint Membership
£700
Academy Membership
£380
Social Membership
£60
Please note there are NO JOINING FEES .
All prices inclusive of VAT at 20%

Special Offer - Flexi Membership - £700
This offer is only valid for the first 50 who sign up, both men and ladies, aged between 36 and 49. Flexi Membership allows you to play 30 rounds of golf on the 18 hole Purbeck Course during weekdays and 15 rounds of golf during weekends (one time top-ups are available on request, please ask for details when joining). Valid for 12 months.
Flexi Membership Includes: - Unlimited rounds on the Dene Course. - Reduced prices on trolleys and buggies. - discounted rates for your guests, up to three at a time, Flexi Member must be playing with his guests. - Able to obtain an official CONGU handicap. - Receive 15% off purchases with your member swipe card. - Eligible to play in all club competitions and join club social activities.
Academy Membership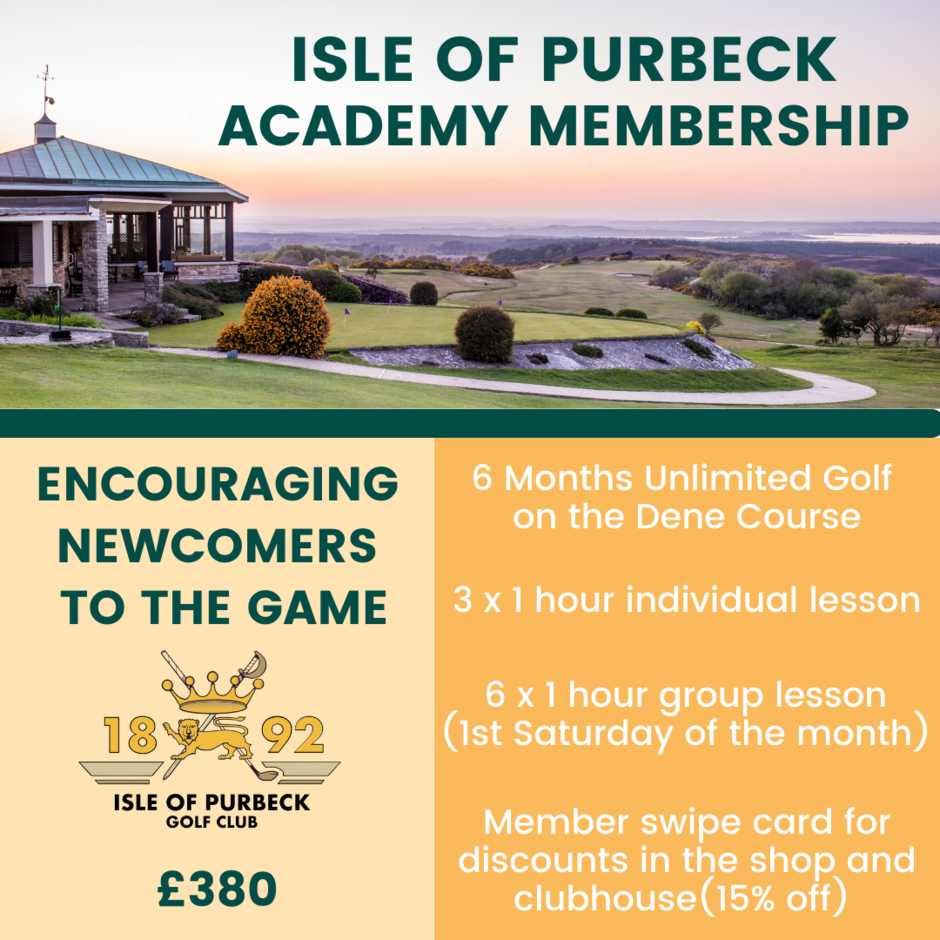 Learn to play golf at one of the friendliest golf clubs in Dorset.

If you are just starting your journey into golf, The Academy Membership is the perfect programme to support you every step of the way. The academy is very much about learning a new skill, enjoying the game and meeting new people.
Below are some of the benefits of becoming an Academy member.
- Unlimited golf on the Dene Course
- 3 x 1 Hour individual Lessons
- 6 x 1 hour group lessons (1st Saturday of the month, 12noon-1pm)
- Member card to receive discounts in the Clubhouse & Pro Shop (currently 15% off)
6 Month Membership - £380

Explanatory notes:
The academy is aimed at encouraging newcomers to the game or players who are seeking to return to the game after a long absence. It is hoped that academy members will have achieved a level of proficiency and interest in the game, which will enable them to transfer to full membership in no more than two years.
Academy membership runs for 6 months from the date of joining.

It is not possible for existing members of the club to transfer to academy status

Membership for golfers aged 18+